The Sandman Will Keep You Awake - The Loop
Play Sound
Obtaining True End
- At the start of the 5th generation, be low-NEUTRAL - there are a lot of enforced LIGHT boosting events that you only want to push you back to NEUTRAL and not into LIGHT.
- When taking over bases in the 5th generation, go in the order Southwest (path towards Lingen) -> North (path towards Centan) -> Northwest (short path to Vol Tuanor)
- Do not get a dark alignment on any of the previous forts mentioned above
- Ensure all 5th generation characters join you.
- Have under 500 turns on the counter; note that you may go over 100 turns in a single generation as long as your total is under 500.
- After the Summerill Battle, if the gauge is NEUTRAL, you should move to the True Ending.
Notes
- All marionettes will be revived once the true end has been activated.
- The Gods can be killed in any order, except for storyline Chaos. Storyline Chaos's point in the boundary field will appear after you have defeated the other 5 gods.
- Killing storyline Chaos will get you the ending sequence, and take you to the credits. You may begin a new game plus right after, but if you're playing on hard difficulty, you can choose to continue where you left off to take care of unfinished business.
- The Boundary Field can be tackled before or after finishing the True End.
- If you've already defeated Holy Dragon in hard before defeating storyline Chaos, you'll have to do so again in the post-game in order to open up the hard-mode-only routes.
- In order to unlock the Hard Mode only routes, the Holy Dragon has to be defeated twice.
Boundary Field / Post Game
- The Boundary Field has optional bosses at each of the crystal points. Killing these bosses yield special items and titles.
- Additional parts of the Boundary Field can be unlocked by defeating the optional bosses.
- True route in easy/normal mode's will only go up to Chaos LVL350. In hard mode the game will continue all the way to 999.
The Boundary Plane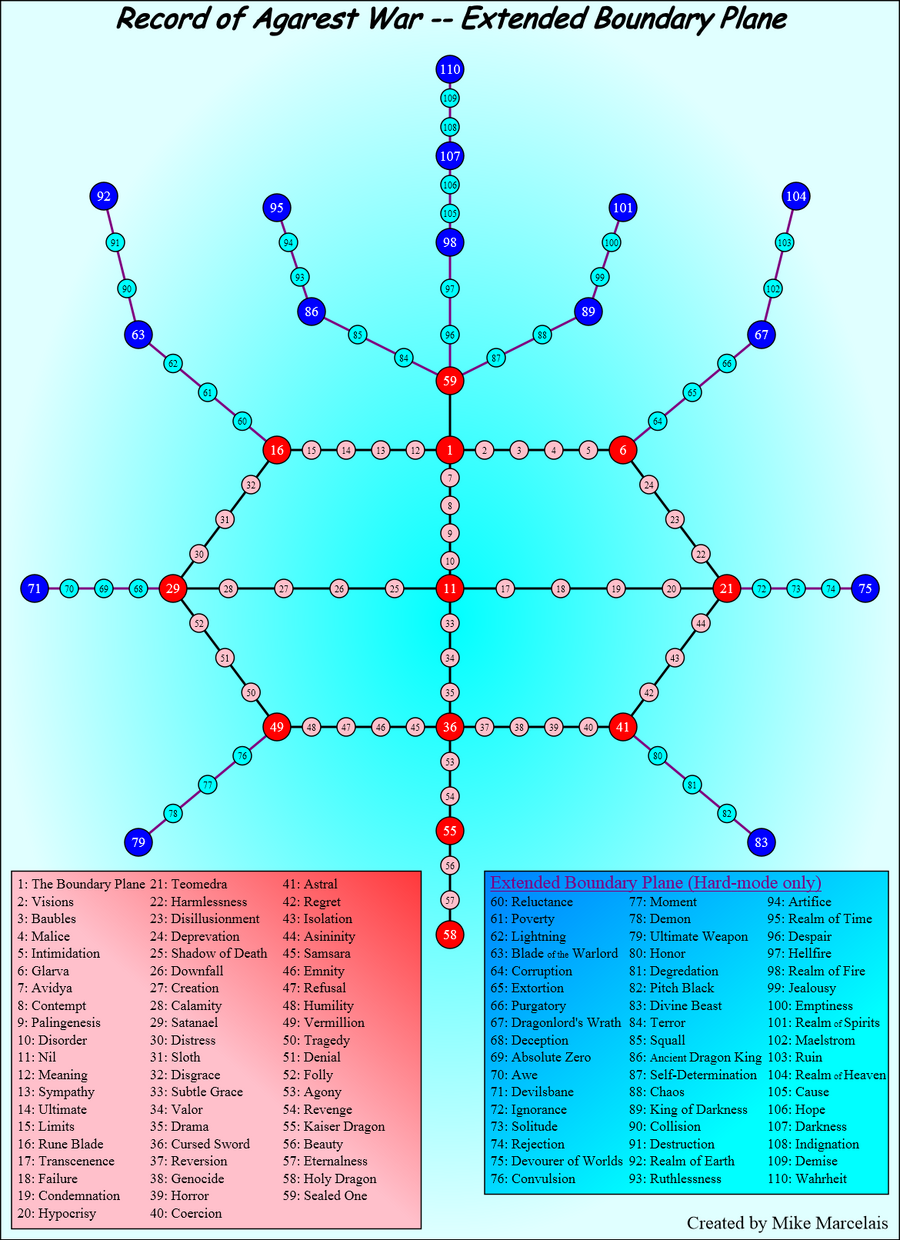 Location names are based off the NA PS3 version of the game.
The bosses can be fought in any order, as long as the pathways to get to them are open. Upon arrival to the Boundary Plane, there will be 3 paths open initially.
Enemy forces in each location may vary in numbers and composition. This list provides typical encounters.
Boss locations usually have 1 boss and 2 other monsters on the first visit. This may change on return visits.
Note that all enemies in the extra paths opened in hard mode are about 3x the levels they were initially when you beat them in the easy/normal paths.
1. The Boundary Plane
Arc Knight x2
Dark Knight x2
Titania x2
Arc Knight x2
Dark Knight x2
Titania x2
Death Knight x2
Rafflesia x2
Death Knight x2
Lamia Queen x3
Dryad x1
Angel Knight x2
Kaiser Slime x3
Kraken x1
Revenant x2
Titania x2
Cyclops x1
Angel Knight x2
Vampire x2
Kaiser Slime x3
Angel Knight x3
A combination of two of the following:
Ouroboros x1
Dark Angel x3
Vampire Lady x3
Dark Knight x3
Rakshasa x2
Rafflesia x2
Arc Knight x3
Revenant x2
King Slime x2
Ring Dragon x2
Reaper x2
Death Knight x2
Master Golem x1
Angel Knight x2
Lamia Queen x2
Dullahan x1
Vampire Lady x2
Death Knight x2
Shadow Fenrir x1
Demon Lord x2
Lamia Queen x2
Demon Lord x2
Rakshasa x2
Dark Knight x2
Death Knight x3
Kaiser Slime x3
Titania x3
Gold Dragon x1
Vampire x2
Ancient x2
Evil Dragon x1
Dark Angel x2
Vampire Lady x2
Luijt x1
Dark Angel x2
Ancient x2
Dryad x1
Rafflesia x2
Kaiser Slime x2
Chariot x1
Demon Lord x2
Lamia Queen x2
Arc Dragon x1
Demon Lord x2
Reaper x2
Death Knight x2
Revenant x2
Arc Dragon x1
Dark Angel x5
60. Reluctance
Luijt x2
Death Knight x2
King Slime x2
61. Poverty
Luijt x2
Dark Knight x2
Titania x2
62. Lightning
Master Golem x1
King Slime x2
Angel Knight x2
63. Blade of the Warlord
Cursed Sword x1
Rune Blade x1
Lindwor x1
64. Corruption
Ancient x3
Dark Angel x2
Lamia Queen x2
65. Extortion
Reaper x3
Kaiser Slime x2
Lamia Queen x3
66. Purgatory
Griffin x1
Dark Angel x2
Revenant x3
67. Dragon Lord's Wrath
68. Deception
Arc Knight x3
King Slimes x3
69. Absolute Zero
70. Awe
Gold Dragon x2
Rakshasa x3
Titania x2
71. Devilsbane
72. Ignorance
Rakshasa x2
King Slime x2
Death Knight x3
73. Solitude
Dark Knight x2
Titania x2
Angel Knight x3
74. Rejection
Ring Dragon x2
Death Knight x2
Luijt x3
75. Devourer of Worlds
76. Convulsion
Titania x3
Reaper x3
Vampire x3
77. Moment
Titania x3
Revenant x2
Vampire x2
78. Demon
Rafflesia x2
Gold Dragon x2
Death Knight x3
79. Ultimate Weapon
Vermillion x1
Vermilliion (Left Arm) x1
Vermillion (Right Arm) x1
80. Honor
Titania x2
King Slime x2
Dark Knight x2
81. Degradation
Rafflesia x2
Gold Dragon x2
Death Knight x3
82. Pitch Black
Arc Knight x3
Dark Knight x3
Guardian x2
83. Divine Beast
84. Terror
Vampire Lady x3
Demon Lord x2
Dark Knight x3
85. Squall
Luijt x3
Ancient x3
Chariot x1
86. Ancient Dragon King
87. Self-Determination
Ancient x3
Rafflesia x2
Revenant x3
88. Chaos
Kaiser Slime x3
Lamia Queen x2
Cyclops x2
89. King of Darkness
90. Collision
Reaper x3
Vampire x2
Arc Knight x2
91. Destruction
Vampire Lady x2
Vampire x3
Fafner x2
92. Realm of Earth
93. Ruthlessness
Ancient x3
Titania x2
Death Knight x3
94. Artifice
Kaiser Slime x3
Kraken x2
Revenant x3
95. Realm of Time
96. Despair
Lamia Queen x2
Rafflesia x3
Revenant x3
97. Hellfire
98. Realm of Fire
99. Jealousy
100. Emptiness
101. Realm of Spirits
102. Maelstrom
103. Ruin
Shadow Fenrir x2
Kaiser Slime x3
Reaper x2
104. Realm of Heaven
105. Cause
Dark Angel x3
Kaiser Slime x3
Reaper x2
106. Hope
Dullahan x1
Demon Lord x3
Reaper x2
107. Darkness
108. Indignation
109. Demise
110. Wahrheit